The future doesn't belong to you!


For those who have not completed

Xenoblade Chronicles

, this page or section may contain spoilers regarding the plot. Discretion is advised.
Project X Zone 2 is the second installment in the Project X Zone series. The game is titled as Project X Zone 2: Brave New World (Japanese: プロジェクト クロスゾーン2:ブレイブニューワールド, Purojekuto Kurosu Zōn 2: Bureibu Nyū Wārudo) in Japan. It was developed by Monolith Soft, and produced and published by Bandai Namco Entertainment. Fiora has been introduced as a playable character, alongside other Xenoblade Chronicles content such as areas and an enemy being represented in the game. Fiora was also one of the first three Nintendo characters to have been introduced in the game.
Nintendo
Characters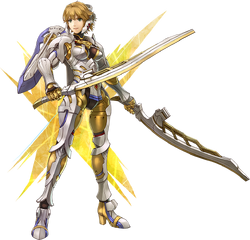 Fiora is the only playable character present from Xenoblade Chronicles and was one of the first three confirmed playable Nintendo characters (the others being Chrom and Lucina, both from Fire Emblem Awakening). She appears in the game in her mechanized form, and is one half of a pair unit - partnered with KOS-MOS from Monolith Soft's Xenosaga series. Additionally, Metal Face appears as a Rival Unit, units that appear as major antagonists throughout the game.
Areas
List of Characters
Pair Units
Solo Units
Rival Units
Event Characters
Cameos
Capcom
Bandai Namco
Valkyrie summons Pino and Acha from Toy Pop, Wagan from the Wagan Land series, and Solvalou from Xevious.
Sega
Gallery
Video
External links